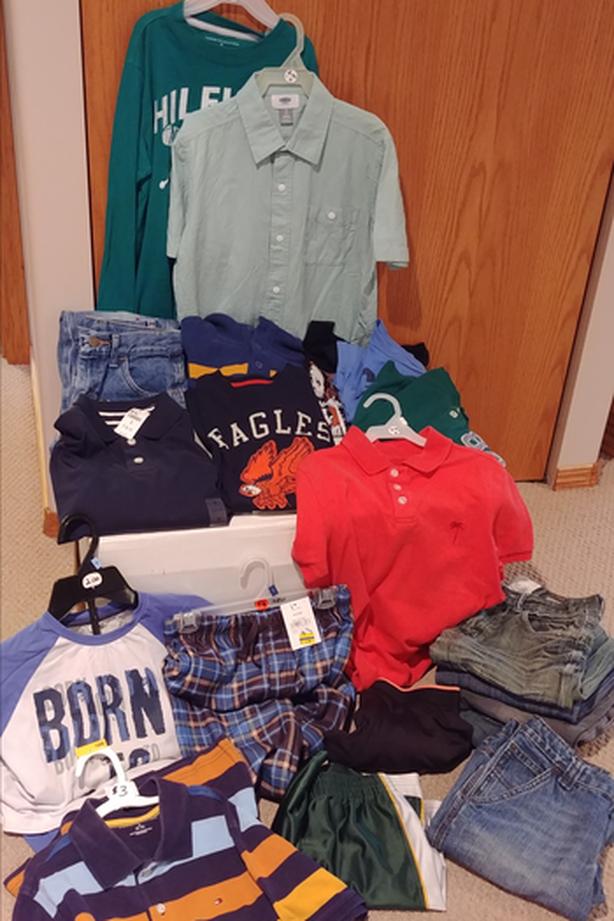 13 boys clothing items for one price of $32 or sold separately per prices below. Smoke free home:
1 Hilfiger long sleeved t $3
1 long sleeved GAP shirt (navy) w/tags $5
1 long sleeved GAP sweater bomber colors blue and gold $3
4 GAP long sleeved shirts $3 each
1 Brand new with tags pj flannel bottom $3
1 pair jeans knees starting to wear $1
1 pair of track shorts $2
3 pairs jean cut off shorts $1 each
1 Short sleeved old navy button up shirt (SOLD)
1 yellow and blue long sleeved shirt (SOLD)
1 green lantern short sleeved t (SOLD)
1 short sleeved Hilfiger polo (SOLD)
1 pair of jeans (SOLD)
1 pair swim trunks (SOLD)
1 pair of jean shorts (SOLD)
1 pair of thermal long johns (SOLD)
1 pair of pj's short sleeved top with long bottom (SOLD)

ALL CLOTHING LINED DRIED. No rips, stains or tears.
| | Last hour | Last 24 hours | All |
| --- | --- | --- | --- |
| Views | | | |
| Browsed | | | |